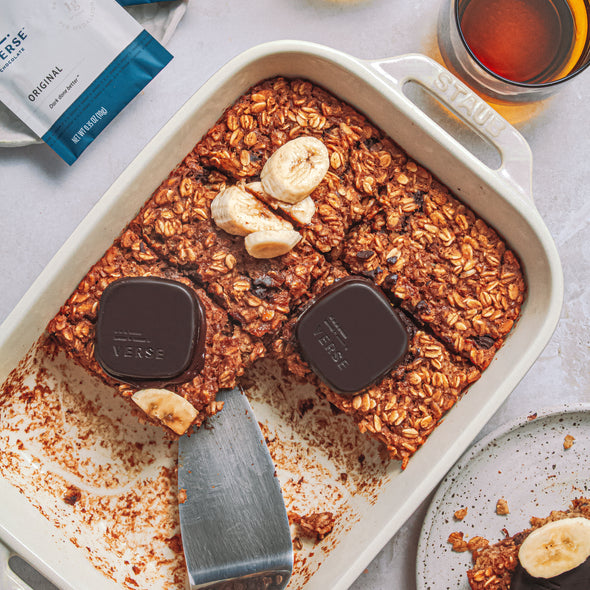 Recipes
Nov 10, 2021
When all you want is pumpkin spice everything, this simple and delicious Pumpkin Spice Oatmeal Bake is the perfect addition to your weekly meal plan.
If you're anything like us, 'pumpkin spice-everything' is the best thing about fall. And this recipe is no exception. Whole-grain rolled oats are mixed with pumpkin puree, bananas, maple syrup and Verse 90% dark chocolate to make a nutritious and delicious breakfast or midday snack, without tons of sugar.
This granola bake comes together quick and easy and can be enjoyed throughout the week. Be sure to have some on hand when that afternoon sweet-tooth craving kicks in. 
Make this snack allergen free by using gluten-free certified rolled oats and your favorite dairy free milk. (our fave is oat milk). Verse Chocolate is also gluten free certified and always dairy free.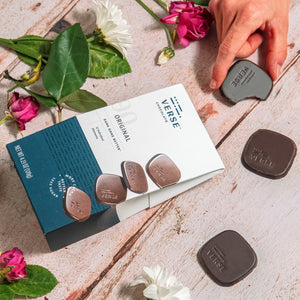 Product Used
Original 90% Dark Chocolate (12-Count)
$10.00 / $9.00 with Subscription
Buy Now
Baked Pumpkin Spice Oatmeal
Prep Time
10 Minutes
Cook Time
40 Minutes
Total Time
50 Minutes
Servings
9
Ingredients
• 2 1/2 cups rolled oats
• 2 tbsps. Pumpkin Pie Spice, from previous recipe
• 1 tsp. baking powder
• 1/4 tsp. salt
• 1 1/2 cups milk of choice
• 3/4 cup mashed banana, about 1 1/2 medium bananas
• 1/2 cup pumpkin puree
• 1/4 cup pure maple syrup
• 1 tsp. vanilla extract or vanilla bean paste
• 6 Verse Original Chocolate Medallions chopped, plus more for
topping
Directions
1. Preheat oven to 375F and grease an 8x8 baking dish.
2. In a large bowl, add oats, pumpkin pie spice, baking powder, and salt.
3. In a separate bowl, mix together the milk, mashed banana, pumpkin, maple syrup and vanilla until well combined.
4. Add the wet mixture to the dry and stir to combine very well, then stir in the chopped chocolate.
5. Pour mixture into baking dish and bake for 40 minutes, until lightly golden.
6. Let cool 10 minutes and slice and serve.
7. Top with more chopped chocolate, banana slices, and a drizzle of maple syrup!
Additional Notes