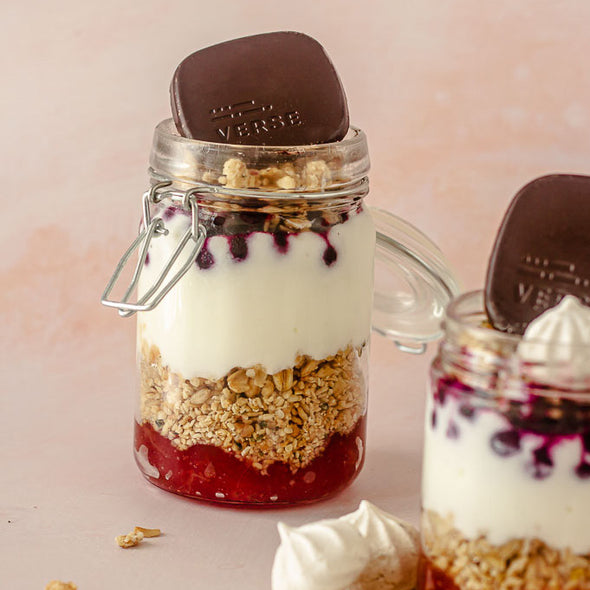 Recipes
Aug 03, 2021
A 'perfect' combination of fresh fruit, creamy yogurt, crunchy granola and a toping of smooth dark mint chocolate. That's what we call 'parfait'.
It's no wonder the word 'parfait' means 'perfect' in French. Because that's what this is... absolutely perfect. A simple homemade strawberry jam brings this recipe to life made with either fresh or frozen berries. 
Layered with your favorite yogurt of choice; greek, coconut, soy, almond (the options are endless these days) and store bought or homemade granola, topped with a square of Verse Mint chocolate. This jarful of delish can be enjoyed as a morning nutrient-packed breakfast or as a sweet way to wrap up the day. It's even good enough for dinner guests. 
Don't forget to dig your spoon all the way down to get a bit of each layer in every bite.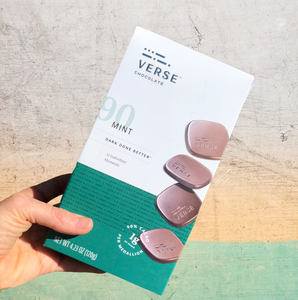 Product Used
Mint 90% Dark Chocolate (12-Count)
$10.00 / $9.00 with Subscription
Buy Now
Yogurt Berry Parfait with Granola and Strawberry Jam
Prep Time
10 Minutes
Cook Time
25 Minutes
Total Time
35 Minutes
Servings
4
Ingredients
Yogurt of choice; Greek, coconut, almond, etc.
Granola of choice
Frozen Wild Blueberries
Verse Chocolate Mint Medallions
4 cups fresh or frozen strawberries, hulled if fresh
1/2 cup granulated sugar or granulated sugar alternative
1 lemon, zested and juiced, 1/2 lemon if you prefer less tart
1/4 teaspoon vanilla extract
Pinch of salt
Directions
1. Place strawberries, sugar, lemon juice, zest, and salt in a medium pot.
2. Bring to a rapid boil over medium heat.
3. Stir occasionally, breaking up and mashing the strawberries as you go.
4. At about 25 minutes, check consistency by dipping a spoon into the pot, pull it out and
run your finger along the back - looking for a clear path! You can also run your spatula
across the bottom of your bottom looking for a clear path too!
5. Pour preserves into a glass jar and let cool to room temperature. Store in the fridge for
up to 3 months.
6. Build your parfaits. Layer a big spoonful of cooled strawberry jam, and then add a
layer of granola. Top with your desired amount of yogurt, and then a handful of
blueberries. Finish off with another layer of granola and a Verse Chocolate Mint
Medallion.
7. Dig your spoon all the way to the bottom to get every layer in every bite!
Additional Notes
Recipe created and photographed by our friends at Four Course Media