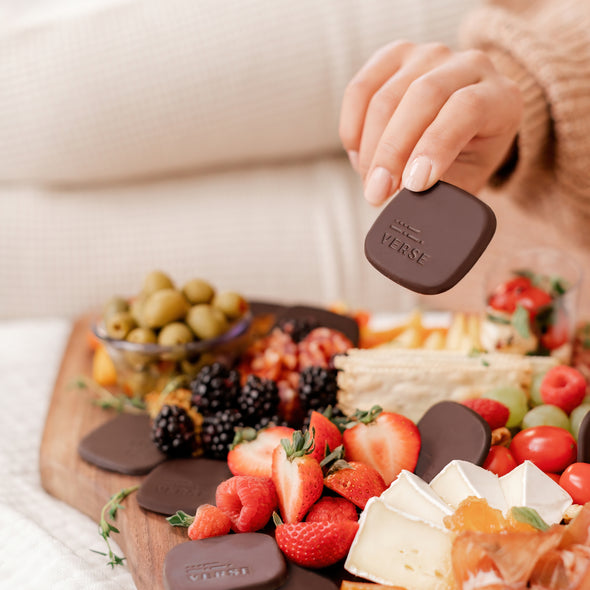 Jun 12, 2023
You probably already knew that dark chocolate pairs well with many things; think coffee, tea, wine and fruit for example. But you may not know that chocolate can also pair deliciously well with all kinds of cheese? We're here to help you discover the best cheese and chocolate combinations for your next delectable charcuterie board.
In the subject of food pairings, chocolate and cheese might not be the first thing that comes to mind. The two are usually paired separately with wine; while chocolate can also be deliciously paired with coffee and tea.
Pairing dark chocolate with cheese might not seem like an obvious combination, but we're here to convince you otherwise. Cheese and chocolate can actually make for a satisfying snack or dessert. The key is to choose the best pairs.
---
What is a Charcuterie Board?
Most people think of a charcuterie board as a snacking platter of meats, cheeses, fruits, and crackers; something to nibble on between meals. But in French, the word 'charcuterie' (pronounced shar-Koo-tuh-ree) means delicatessen or deli meat. Traditionally in France, when you order a charcuterie board at a restaurant or bar, you'll get a platter full of sliced meat, typically a variety of cured pork products (prosciutto, serrano ham, salami, coppa, etc) served with cornichons, Dijon mustard and fresh bread. A cheese platter is something ordered separately; a variety of cheeses including soft, hard and blue cheeses, served with fresh baguette of course.
Here in the U.S., we tend to be a bit more adventurous and creative with our charcuterie boards. Often, you'll see a board loaded with fresh and dried fruits, nuts, jams, olives, cheeses, meats, and a variety of seeded crackers. And more recently we see a new accompaniment to the charcuterie board – DARK CHOCOLATE. It's no surprise really.  Dark Chocolate is technically made from fruit, the Theobroma cacao fruit, so the sweet and tangy flavor notes of cacao can create a delicious umami, sweet and salty combination.
---
How to Pair Chocolate with Cheese
One key concept to keep in mind when pairing chocolate and cheese is CONTRAST. Think about contrast in texture and flavors to engage multiple senses and make for a more interesting tasting experience. For example, think about a creamy soft cheese paired with a chocolate with nibs or crunchy sea salt.
Chocolate and cheese share more than 73 flavor compounds, so there's no wonder why these pairings should work well. It's helpful to think about unifying flavor notes when exploring your pairings.  For example, an aged Parmigiano-Reggiano has a salty, umami and slightly nutty flavor profile. This can pair well with a high-cocoa dark chocolate with sea salt or toasted nuts.
Choose High-Quality and High-Cacao Chocolate
The higher the cocoa content, the more intense and complex the flavor of the chocolate will be. This is important because you want the chocolate to hold its own against the strong flavor of the cheese.
Verse Chocolate is made with the highest quality cocoa beans sourced from Ghana, Africa. The cocoa variety from this region has a natural fudge-forward flavor profile. Verse cocoa beans are expertly crafted to produce a smooth and luxurious chocolate experience. The high cocoa content (70% and 90% cocoa) also makes it a great option for pairing dark chocolate with cheese. The bold flavors stand up to the strong flavors of various types of cheeses.
We worked with an expert cheesemonger, and friend of Verse Chocolate, Jon Reed to present our top chocolate, cheese and accoutrement pairing recommendations


---
Verse 90% ORIGINAL
Pair with English Cheddar:
the tangy sharp notes of English Cheddar add a subtle nuanced flavor when paired with 90% dark chocolate.
Pair with Truffle Brie:
The creamy, buttery flavors of brie coupled with the complex, earthy richness of truffle pairs well with the bold rich 90% cocoa content.
* Charcuterie pairings: add Italian salami and hot honey
Verse 90% COFFEE
Pair with Aged Gouda
Aged Gouda cheese has a nutty, caramel-like taste with a crunchy and crumbly texture. The crystalized crunch of gouda pairs nicely with the crunch of pure organic ground coffee.
Pair with Cambozola Black Label
Cambozola Black Label has the softness of a triple crème, with the mild tanginess of a blue cheese. The nutty creaminess of the crème coupled with the strong blue zing, brings out the bold flavors of fresh coffee.
 * Charcuterie pairings: add Italian prosciutto, peppered salami and pickled vegetables.
Verse 70% SEA SALT
Pair with aged goat milk cheese – (LaClare Family Creamery EVALON)
This aged gouda-style cheese has hints of fruit and caramel notes with a rich piquant and nutty finish. This compliments the rich chocolatey notes of 70% dark chocolate with a touch of salt.
*Charcuterie pairings: add black olives and fig jam
Verse 70% SALTED ALMOND
Pair with Italian Fontina
The flavor, as with all fontina cheeses, is mildly sharp, somewhat savory, and intense. Fontina cheese tastes sweet and pungent, with buttery and roasted nut undertones. This well with the sweet richness of 70% dark chocolate enriched with slightly salted toasted almonds.
* Charcuterie pairings: Add cornichons and prosciutto
---
When making your own charcuterie board, you can really combine anything you want depending on the occasion, your guests and your preference. The key is to have fun, experiment with different combinations and be adventurous.  Enjoy!